Welcome to Heritage Roses in Australia
Heritage Roses in Australia is a fellowship of those who aim to advance the preservation, cultivation, distribution, and study of old garden roses, including roses no longer in general cultivation, roses of historical importance, species roses and their hybrids.
Heritage Roses in Australia was formed in 1979 to bring together people who love and collect old roses, the roses of antiquity and the survivors from Australian colonial gardens. There was also interest in finding and rescuing Australian bred roses, for example those of Alister Clark, Frank Riethmuller and Mrs Fitzhardinge. The basic concept was to build informal, friendly networks for conservation of this part of our garden heritage; and by and large that starting point has remained the principal attraction for members.
There are regional groups in New South Wales (Blue Mountains, Illawarra-Southern Highlands, Orange-Central Tablelands, Sydney, Riverina), Queensland (Brisbane, Darling Downs), Tasmania (Southern, Northern), South Australia (Adelaide, Barossa & Beyond), ACT (Canberra), Victoria (Goldfields and Beyond, Greater Ballarat, Greater Melbourne, Mornington Peninsula, State Rose Garden, Western District) and Western Australia (Perth, Great Southern, South West).
The charm of heritage roses
Most gardeners know the modern rose varieties – such as Hybrid Teas, ground cover roses and the David Austin roses (yes they are modern – with some old blood!) but their older relatives are less well known.
Heritage roses display an amazing variety in size, form, foliage and hips which complement the diversity in blooms. We find sprays of small singles or doubles, clusters, pompoms, large singles and very full double flowers with exquisite perfumes. Many will repeat their flowering and are disease resistant. They mix happily with other shrubs, perennials, bulbs and annuals in the garden and many prefer just a light grooming. They are also drought tolerant and have survived in old gardens and cemeteries without special care.
Roses were grown before 2000 BC and occur naturally only in the northern hemisphere. Those of European origin do well in our temperate regions and those with Chinese origins thrive across both our cooler areas and the hot dry parts of Australia. Our historic Australian roses (eg the Alister Clark collection) are being rediscovered and welcomed back into our private and public gardens.
Unidentified found roses are usually given study names in double inverted commas; in the photo galleries and rose index on this website, they are denoted by ROR (renamed old rose) after the study name.
Species roses - Peter Cox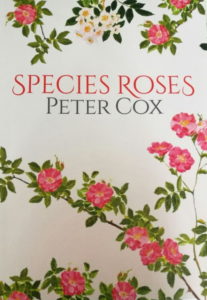 In the 90s it was decided that Peter Cox, who owned a heritage rose nursery, would grow a plant of each available species rose variety. Peter produced a botanical painting of each rose, as well as botanical notes. These notes, together with high resolution photographs of the paintings, were intended to form a book. It was however not until 2016 that the book was finally published, just in time for the 13th Biennial Conference of Heritage Roses in Australia. For more information on the book and how to purchase it visit our publications page.